Wann:
15. September 2019 um 18:00 – 20:30
2019-09-15T18:00:00+02:00
2019-09-15T20:30:00+02:00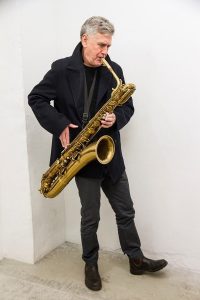 Willi Hanne und NaabtalDeath invites Hilary Jeffery & Simon Rose & Jürgen Morgenstern
Hilary Jefferey – Posaune
Simon Rose – Saxophon
NaabtalDeath – Zitter
Jürgen Morgenstern – Kontrabass
Willi Hanne – Schlagzeug
Willi Hanne und NaabtalDeath setzen ihre Zusammenarbeit mit den englischen Musikern mit Berliner Heimstatt Simon Rose (Bariton Saxofon) und Hilary Jeffery (Posaune) diesmal mit dem hannoverschen Bassisten Jürgen Morgenstern fort.
Simon Rose 
is a musician, author and researcher from London, England based in Berlin, Germany. He performs on baritone and alto saxophones in numerous collaborations and as soloist. He also collaborates beyond music with dancers, visual artists, mixed media, built instruments, site specific performance and more. His research interest is in creative processes. 
https://simonrose.org/
Hilary Jeffery 
(b.1971) is a British musician born in Surbiton (UK) and currently based in Berlin. His musical career started with a journey to the Sahara Desert in 1990 and the sense of silent space which he experienced there is a sustaining influence on his work. He took a degree in music at Dartington College of Arts and the University of York between 1990 and 1993. Early contact with UK jazz musicians such as Paul Dunmall and Keith Tippett have had a lasting influence on Hilary's approach to music. After completing his studies he became a freelance musician. His early engagements include a tour of UK, Scandinavia, Europe and North America with an Anthroposophic theatre company called Portal Productions for a new version of Rudolf Steiner's fourth mystery play "The Soul's Awakening". After completing this tour Hilary settled in London, worked as a session musician and taught music to theatre students at Queen Mary and Westfield College and Central School of Speech and Drama. During this time he also worked on many compositions including solo pieces for trombone and for the Slovakian cello player Jozef Lupták. 
http://www.hiljef.com/news/
15,00€/12,50€ im VVK, 10€ ermäßigt