Wann:
1. September 2019 um 18:00 – 20:30
2019-09-01T18:00:00+02:00
2019-09-01T20:30:00+02:00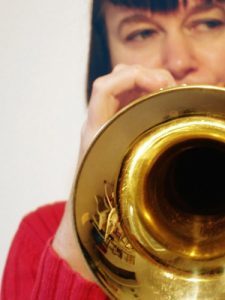 Birgit Ulher & Roger Turner
Birgit Ulher – Trompete
Roger Turner – Schlagzeug
Das unverzichtbare Duo aus Birgit Ulher (Trompete und Zeug) und Roger Turner (Drumkit und Zeug) erweist sich als eine hervorragende Kombination aus der Kunst des Zuhörens und der Kunst, eine unbekannte, aber zwingende Welt der Klangwelten zu schaffen. Jedes Treffen entwirft neue Territorien, neue transitorische Strukturen von Klängen, die auf das materielle Potenzial ihrer Instrumente reagieren. Überzeugend gestalten sie es in eine Präsenz mit großer Bewusstheit und akustischer Aufmerksamkeit.
Birgit Ulher
Born 1961 in Nuremberg, she studied the visual arts, which still have an important influence on her music. Since moving to Hamburg in 1982 she has been involved in free improvisation and experimental music. Since then she has "established a distinguished grammar of sounds beyond the open trumpet" (jazzdimensions.de). She works mainly on extending the sounding possiblities of the trumpet by using splitting sounds,  multiphonics and granular sounds and has developed her own extended techniques and preparations for producing these sounds. Besides this material research she is especially interested in the relation between sound and silence.
Since 2006 Birgit Ulher works with radios and uses extended speakers, fed with radio noise in her trumpet mutes. The trumpet functions as an acoustic chamber and modulates the radio noise, thus the trumpet is transmitter and receiver at the same time. Her work with radio is documented on the CD 'Radio Silence No More', released 2007 on Olof Bright.
The same concept is the basis of the duo with Gregory Büttner, where Büttner plays his sound contributions via a laptop with an output to a small speaker which Ulher uses a s trumpet mute.Their first CD 'Tehricks' based on this concept was released 2009.
She performs solo, with dancers, working ensembles, and one-time collaborations with musicians from around the world.
She has been organising the festival of improvised music Real Time Music Meeting for over ten years.
Roger Turner 
has been working as an improvising percussionist since the early 1970's, collaborating in numerous established and ad hoc configurations.
solo work, work with electro-acoustic ensembles & open–form song, extensive work with dance and visual artists, plus specific jazz-based ensembles have brought collaborations with the most interesting european & international musicians and performers from Annette Peacock to Phil Minton, Cecil Taylor to Masahiko Satoh, Charles Gayle to Lol Coxhill, Derek Bailey to Otomo Yoshihide, Alan Silva to Keith Rowe, Josef Nadjto Min Tanaka, Toshinori Kondo to Axel Dörner, etc. etc.
He has toured and played concerts worldwide from Sydney to the Arctic, Tokyo to Belfast, New York to Beirut.
15,00€/12,50€ im VVK, 10€ ermäßigt